Wonder Leather Whip Oil Tawse Preparation
Wed, 04/10/2013 - 11:37 — Anonymous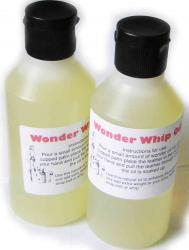 SKU: WWO100
A unique product that will enhance the suppleness of your leather punishment spanking strap or belt and whips.
If you use Wonder Whip Oil on your bdsm whips on a regular bassis it will increase the weight and suppleness of all your special discipline equipment.
Most usefull to clean and preserve your leather bondage equipment.
If you use Wonder Whip oil on tan or brown leather it will enhance the colour to a darker shade.
Supplied in 100ml bottles with a flip top for accurate dosage.
Do not use on products that have been combined together with glue.
Full instructions and dosage on how to use this unique natural product are printed on the label.
this product cannot be sent via airmail due to security restrictions.
OUR COURIERS