How to Spank a female properly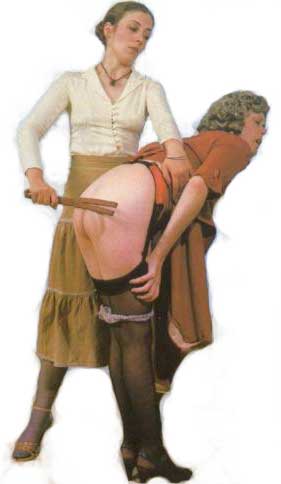 How to spank a female By Mistress Penny.
Whether it is for punishment, maintenance, and pre-emption or just because you feel like it.
A spanking needs to be done in a structured way.
Spanking should never be done in haste or anger and without consideration of the effects.
Where to spank ? The bottom was clearly made for spanking.
It can take a lot of punishment without injury and presents a glorious sight when it is glowing red and hot.
However, other parts of a woman's body provide suitable targets for chastisement.
The inner thighs, belly, breasts and vagina may all be spanked with benefit for the spanker and the recipient.
The head and face are no go areas for spanking.
You may give a slap on the cheek at times if that is your way.
Spanking should not be done above the crack of the buttocks at the back.
The coccyx will bruise easily and the kidneys are vulnerable above that. With plenty of more interesting places to decorate with your marks, the back as a whole should be left alone.
The lower legs, feet and arms are all unworthy of spanking.
You may wish to punish the hands if she has been putting them in the way, but this is really a side issue and is best corrected by proper training in presentation and submission than by caning or strapping the hands.
Presentation
Spanking should always be on bare skin for three reasons.
The full effect of your efforts will not be achieved if some of it is absorbed by clothing.
You need to see exactly where you are striking and the effects of the strokes to be sure that your work continues to be completely safe.
Finally you should have the pleasure of seeing the results of your work as you do it.
When she is told that she is to be spanked, a woman should be required to present herself naked before her Dominant.
It is a matter of individual preference, but in most cases it will be best to require her to present on her knees with her hands clasped behind her head before her Dominant to be told the extent of her punishment or maintenance and to receive any verbal discipline.
She may also be required to collect the discipline implements and deliver them to her chastiser..
Not all spankings are of a specific number, but where they are it is a good additional control to require her to call out the strokes and thank you for each one as they land.
When the spanking is complete, she should again present herself on her knees before her Dominant and thank them for giving her the correction or reminder she required.
Position
The traditional over the knee (over the knee) position is fine for a hand spanking of the bottom and it creates a close contact that can be very pleasant.
It is not really very good if you are using a spanking implement because you cannot get into a good enough position to deliver well aimed and effective strokes.
To spank any other part of the body and to deliver a sound thrashing with any kind of implement you need to go beyond (over the knee).
The bed is a very versatile place. Face down and with two or three pillows under her is excellent for any hard bottom spanking.
Breast spanking is best done standing or in an upright kneeling position.
Ensure that the breasts themselves are receiving the strokes and they are not falling on the ribs.
Special care must be taken if she is small breasted and in most case nothing heavier than a crop should be used on the breasts.
It will sometimes be good to have her hold her breasts up to be spanked.
Having her lying on her back grasping her ankles wide apart is a good position for spanking the vagina and the inner thighs.
Flat on the back is fine for spanking the belly. Do not go as high as the ribs or as low as the hips.
Implements
The hand is the most convenient spanking implement and the one which everybody should start off with.
The hand will never be enough on its own so you will eventually progress to using more adventures items designed for chastising.
The range of belts. floggers, paddles, whips, canes, etc. is enormous.
You can see many of these on my site at www.strictlyleather.com
My Swishy and whipy cane set is superb and is not intended to main or permanently mark your valued submissive.
Some implements are better suited to some tasks than others.
A belt or flogger is good for use on the vagina although some people like to use a purpose made mini flogger or strap.
The crop is good on the breasts (remember the Story of O).
Every implement that is fit for spanking can be used on the bottom.
The cane should not be used on the breasts unless she is particularly suitable and you both know what can be done without injury.
How much and how often Whether you limit the session by number of strokes or by length of time, there needs to be a fixed limit that you set before you start and you stick to it.
If she misbehaves, or fails to maintain standards while she is being spanked you can add to the original tariff, but at all times control must be maintained.
Everybody is different so it is not possible to specify a fixed amount of punishment as a limit.
The guidance must always be to ensure that injury is avoided.
Failure to maintain reasonable discipline will be harmful to your relationship, but losing control and going beyond the boundaries of what your partner can take will destroy the most valuable thing in your life.
Some people have daily spankings and sometimes even more than once a day, but this is the exception.
It is more normal for maintenance to be once or twice a week.
Punishment must be as often as it is needed and if there are too many punishment spankings there will need to be an increase in maintenance.
The point is to get the session to be sufficiently painful to be a deterrent to misbehaviour and then the frequency will not need to be too great.
Mistress Penny (Copyright) 2016 www.strictlyleather.co.uk www.strictlywhips.com
OUR COURIERS