Female Princess Leather Bondage Set
Mon, 03/05/2012 - 15:46 — Anonymous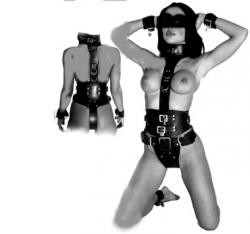 SKU: FEMFLBSET
A superb full chastity restraint set for your female slave, princess or slut.
You can really keep her bound and tied up in this outfit, simply great for outdoor events or clubbing but a real must for any serious dungeon scene.
See details of construction in our picture of this De-Luxe leather outfit
Made from medium leather hide with stitched edges.
Heavy nickel plated steel buckles and fittings, all double riveted for extra security and durability.
Set consists of full body harness a three wide inch waist belt. Soft lined neck collar.
Matching wrist and ankle cuffs.
Buckles can be secured by using small padlocks at the buckles by means of eyeleted holes that also are used to tighten the leather belts.(not supplied with this set)
Adjustable main body straps are 2 inches wide.
Please provide your measurements to make sure that this item fits and lives up-to your expectations.
Allow for up to 4 weeks for manufacture plus delivery time, as its a fully hand made item just for you.
The base price of this set would be available up to a UK Size 12 larger size would be charged extra.
Padlocks that are in illustration are sold separately and can be ordered on our metal ware page
We make this harness in kinky black leather only.
A male version can be made to this style, please enquire
All customers should note that strictlyleather makes your item to order and does not hold stock items.
We are a true bespoke manufacturer.
Our picture is for illustration purposes giving you a sense of its design and uses only, if you need any further details please get in touch.
We do not offer this design minus cuffs ect.
Made in England
OUR COURIERS