Bondage Chastity Harness Leather Slave Girl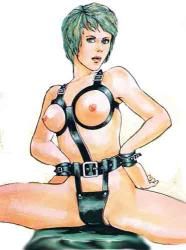 SKU: X063STL
A kinky leather slave girls full bondage and punishment chastity harness.
This outfit is a fully adjustable leather bondage harness that can be used in various ways to suit nearly every scene.
Removable leather wrist cuffs fitted to a 2 inch wide kinky leather waist belt.
Cuffs can be used detached and used in other bondage or punishment situations.
Breast harness is adjustable to constrict and show your slave girls attributes to her best by the use of fiendishly positioned steel roller buckles, A Gorean delight for all.
Full genital chastity cover that is fixed at the rear by a roller buckle and strap arrangement.
Please supply your measurements at checkout to ensure a perfect fit.
All leather straps are edge stitched and all metal fittings are nickel steel.
Sizes are standard up-to 38 inch waist.
XL sizes are charged slightly more to cover the costs of the expensive heavy duty leather used to hand craft this superb outfit,select the required size in the menu.
Made for you in England by www.strictlyleather.com
All customers should note that strictlyleather makes your item to order and does not hold stock items.
We are a true bespoke manufacturer.
OUR COURIERS