Secure Female Chastity Belt and Harness
Mon, 03/05/2012 - 15:51 — Anonymous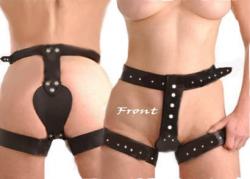 SKU: FCBH12
A very special strict harness made for female slaves.
Black leather hide with fully stitched edges and lined in with softer leather.
Nickle steel fittings including strap holes eyeleted for extra security and durability.
All straps are fully adjustable by the means of a roller buckle on each strap.
You can make all straps lockable if you use a small padlock on one of the buckle holes just after you tighten the strap.
Crutch cover is fully adjustable for security and comfort.
Extra wide rear entry cover, and thigh straps to stop the chastity cover from being pushed to one side.
Select your waist size from menu, but if you need any special alterations then state them on the order form at checkout.
Another alternative choice is the addition on leather wrist cuffs fitted to the thigh straps, but you can also fix them to the waist belt on the sides by the means of a "D" ring.
The wrist cuffs are extra and you can select this option from menu.
A very useful harness that can be used in various situations and suitable for overnight or under clothes for trips out.
No Master or Mistress should be without this useful harness.
All customers should note that strictlyleather makes your item to order and does not hold stock items.
We are a true bespoke manufacturer.
Made In England by Strictlyleather.com
OUR COURIERS