Bondage Discipline Tawse Cuffs Blindfold Leather Set
Sat, 09/08/2012 - 12:33 — Anonymous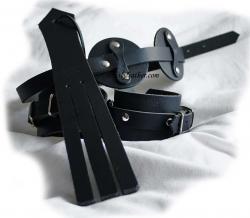 SKU: STB11
A very special corporal punishment and bondage punishment set.
This collection is a unique offer from "Mistress Penny" as your personal starter kit.
Click on the image for a larger view.
All made from heavy duty black leather hide.
A very nice pair of leather wrist cuffs.
Centre ring to hold the cuffs together,but you can undo the strap and use the cuffs seperately.
A three tailed short Tawse that is very usefull as a general purpose and genital tawse but can also be used for extreme discipline.
A very simple and fully adjustable set of goggle style eye covers,if these covers are used properly you cannot see from under the covers.
Made in our own workshop at strictlyleather from heavy duty genuinev leather not fake leather as offered by others on various sites,please consider this when choosing your leather bondage equipment, if you want your bondage gear to get better with usage and time ,it has to be kinky leather "Not False Leather that will crack and tear with use.
OUR COURIERS