Bondage Harness Leather Slave Girl
Sat, 09/08/2012 - 12:28 — Anonymous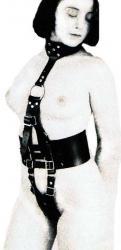 SKU: FBH99
A superb heavy leather slave girl bondage and punishment harness.
A stunning bondage harness for that special slave girl or Mistress in your life.
Click on the image for a larger view
Extra Heavy duty hide belting leather that can be polished to a shine,it creaks when flexed and smells of kinky leather,a mouth watering treat for any leather fetish devotee.
Stitched edges on all the leather strap work.
3 1/2 inch wide waist belt.
The waist belt fastens on the front securely holding the chastity cover and the rest of the bondage harness firmly in its place.
Our bondage harness is made at our workshop by skilled leather craftsmen to ensure quality and durability.
The collar measures 2 1/2 inches wide also lined with a contrasting leather inner.
Collar is firmly attached to the harness and adjusts at the rear by the means of a roller buckle.
All strap work on this leather bondage harness is fully adjustable also by the means of roller buckles.
Colour variations are avalable from the drop down menus.
Size menu is just a rough guide as our size chart.
As this harness is made just for you,collect your measurements and foward the to us via the notes section at check out or via our contact page.
Mistress Penny has personaly chosen this bondage harness as her favourite.
Made specialy for you on ordering.
OUR COURIERS