Leather Penis Cover and Chastity Sleeve
Mon, 03/05/2012 - 15:54 — Anonymous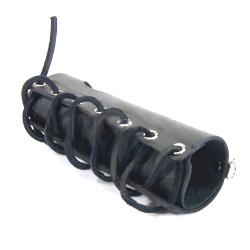 SKU: PSLV46
Male Leather chastity laced up penis sleeve and chastity cover.
Made from firm black leather.
State length of sleeve required at checkout
Steel eyeleted adjustment holes that really do tighten the shaft so that movement is not possible.
A very useful and effective chastity device that enhances any erection.
All customers should note that strictlyleather makes your item to order and does not hold stock items.
We are a true bespoke manufacturer.
Made in England by strictly leather.com
OUR COURIERS