Leather Penis Restraint Five Gates of Hell
Mon, 03/05/2012 - 15:55 — Anonymous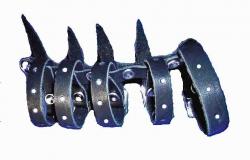 SKU: LTH5G
Male chastity harness Five gates of hell.
An inexpensive fully adjustable male chastity errection restriction and punishment harness.
Including a testicle strap that prevents the penis harness from being removed.
Adjustment on all straps is by a small steel buckle.
This leather device that has been in use for over one hundred years and originates from a medevial design that was used to enforce chastity in males .
Black leather straps that are fully adjustable to suit your size.
Often used as an anti masturbation penis chastity harnesss.
A well tried out BDSM male harness that really does work.
All customers should note that strictlyleather makes your item to order and does not hold stock items.
We are a true bespoke manufacturer.
Made in England. by strictlyleather.com
OUR COURIERS