Male Chastity Harness Erection Restriction
Mon, 03/05/2012 - 15:56 — Anonymous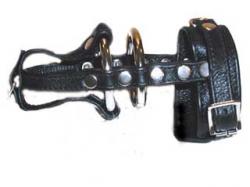 SKU: PX34
A secure male chastity anti masturbation device.
The harness made from black leather and steel.
Ideal for controlling and restricting errections for any submissive male.
Bottom ring internal diameter 38cm.
Top ring internal diameter 30cm.
The harness is made short so that the penis cannot get a full erection, also the size of the rings restrict the shaft.
You need to put this male chastity device on the penis when it is soft and flacid,otherwise you will not succeed in trapping the offendin penis.
Its a real mean deal.
Testicle strap adjusts to size using a roller buckle.
A small padlock can be passed through the strap making it impossible to remove without a key.
See padlocks in Metal Security section.
Simple but ingenious and at an affordable price.
All customers should note that strictlyleather makes your item to order and does not hold stock items.
We are a true bespoke manufacturer.
Made in England by stricttyleather.com
OUR COURIERS