Cock Ring 5 Gates of Hell Chastity Device
Fri, 10/12/2012 - 10:46 — Anonymous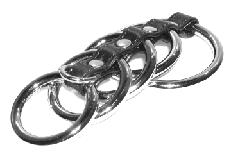 SKU: Steel 5 RingGH
The classic cock ring consisting of five steel cock rings that control and enhance an errection in all subbmissive males.
A superb penis chastity restraint.
5 Steel rings to control all erections and prevent male orgasm.
If an erection occurs then this set is impossible to remove without a jug of ice water, and that's extra fun for the tormentor.
Nickle steel rings set in kinky black leather.
4 nickle steel rings on the shaft have an internal diameter of 1 1/4", ball ring is 1 1/2".
Black leather.
All customers should note that strictlyleather makes your item to order and does not hold stock items.
We are a true bespoke manufacturer.
Made in England
OUR COURIERS