Penis Chastity Sleeve Harness
Mon, 03/05/2012 - 15:58 — Anonymous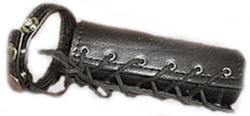 SKU: FPS1
A well tried and tested extreme restraint for male orgasm control.
Lace up leather penis sleeve with a adjustable testicle strap.
Made from Black Medium Leather.
Leather thong lace and fully eyeleted on shaft body.
A real fetish must for any BDSM male chastity and genitorture activities.
Press Stud adjustment or a Small roller buckle on testicle strap, steel fittings.
All customers should note that www.strictlyleather.com makes your item to order and does not hold stock items.
We are a true bespoke manufacturer.
Made in England by www.strictlychastity.com
OUR COURIERS