Cock Ring Four Rings Penis Restraint
Mon, 03/05/2012 - 16:11 — Anonymous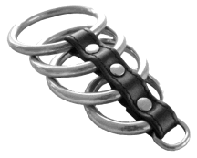 SKU: Steel4Ring
A cock ring that controlls all penis erections.
A mean controller and chastity restraint.
An inexpensive male chastity restraint that uses 4 nickle Steel rings to control the erection and prevent male orgasm climax.
When an erection occurs the harness is impossible to remove without a jug of ice water to pour over his penis, and that's extra fun for the dominant.
A must for serious male chastity device practitioners.
Nickle steel rings set in black leather.
3 rings on the shaft have an internal diameter of 1 1/4", ball ring is 1 1/2".
All customers should note that strictlyleather makes your item to order in England using UK sourced leather and fittings,our product is not obtained from the far east We do not hold stock items.
We are a true bespoke manufacturer.
Made in England
OUR COURIERS