Wide Open Legs Bondage Harness
Thu, 09/15/2011 - 18:14 — Anonymous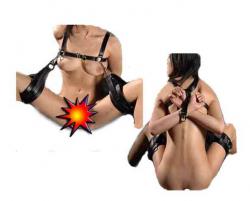 SKU: OPLEGHRN
Wide open leg and thigh harness.
Male or female use in bondage restriction play.
Black leather with nickle steel fittings.
Eyeleted holes for adjustment, stitched edges to enhance this superb bondage equipment harness.
Picture shows back and front arrangement of the bondage straps.
3 inch wide thigh straps that can be fully adjusted to suit your subject.
All other straps are 1 inch wide.
Rear cross over straps and fully adjustable leg lifting straps and chains.
Single wrist restraining cuff on rear strap, also lockable to stop wandering fingers.
All straps are fully lockable at the buckle by the further use of a padlock (see metal fittings section).
For extra security and rigidity a leg spreader could be used at the ankles.
A classic bondage position that would please any Master or Mistress and subdue any slave of either gender.
Leg spreaders are due in stock shortly, if you need a price then send for details.
An unusual bondage harness that has many uses in the bdsm scene.
A dungeon must for any bondage equipment collection.
Please send detailed measurements at checkout for a better fit.
If you need further details on this bondage harness then please inquire.
Made in Englandby strictlyleather.com 2014 MSP
OUR COURIERS