Convent School Punishment Tawse Studded Spanking Strap
Sat, 09/10/2011 - 14:49 — Anonymous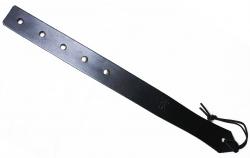 SKU: TWSSTD
Punishment tawse, school spanking strap.
A traditional style punishment tawse, as used in schools and correctional establishments in Scotland, Ireland, England, Australia, New Zealand and India.
Click on the image for a larger view.
This version is studded on one side of the tail and plain leather on the reverse, this means that you really get two tawses in one.
Length 18 inches 1/4" thick 1 1/2" as are all our Convent school punishment tawses
Hanging loop provided for hanging in your dungeon, playroom or wardrobe.
A well made item constructed from thick belting leather hide.
Colours available is black, brown or dark navy blue.
A serious leather fetish item that will be useful in any collection and exceptionally useful for bare bottom spanking.
Ideal for punishments and all related BDSM activities.
Stamped "Leather Bound" Strictlyleather trade mark.
Heavy hide leather that looks and smells most sinister.
Made in England for you by strictlyleather.com
OUR COURIERS