Convent School Punishment Tawse Three Tail Spanking Strap
Mon, 01/02/2012 - 13:33 — Anonymous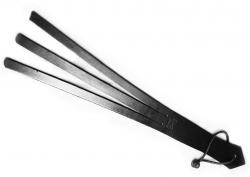 SKU: TWS3
A traditional style punishment tawse.
This convent school punishment tawse has three tails of torment.
Overall length 46 cm. Wide 4 cm. or 18"by 1 1/2 " wide X 1/4" inch thick.
Leather hanging loop provided on the handle of the tawse.
A well made press cut tawse constructed from thick belting leather hide.
Colour shown is black , brown and navy blue is available.
A serious convent school punishment tawse that would be useful and versatile in any collection.
Further custom tawse designs made to order and you're designs.
An ideal bare bottom over the knee spanking strap tawse.
All our leather punishment tawses are made to leave a lasting reminder,do not confuse this product with light weight inferior brittle leather far eastern imports.
All my tawses have been tested for serious punishment usage.
A genuine strictlyleather.com product made in England.
Made in England by www.strictlyleather.com
OUR COURIERS