Devils Tail Spanking Tawse Wooden Handle
Sun, 09/11/2011 - 21:31 — Anonymous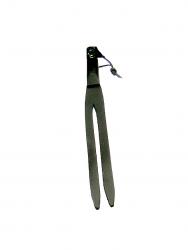 SKU: DEVTWS1
Devils tail tawse also described as the "Serpents Tongue" Tawse.
Fitted wooden handle that controls this feared instrument of discipline.
18" overall length of shear hell and torment for the recipient of this devilish punishment tawse.

Extra heavy duty hide leather tails that wrap round and sting.

A true martinets implement of retribution and discipline.
A very useful addition to any serious collection of discipline and punishment implements.
Made in England by Strictlyleather.com
OUR COURIERS