Leather Tawse with Spanking Paddle
Fri, 07/06/2012 - 20:30 — Anonymous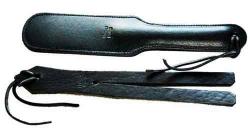 SKU: TWPDSET1
A special pocket or handbag super leather spanking set.
Ideal for travel or club discipline, just pop them in your pocket or handbag.
Click on the image for a larger view.
Standard finish of this set is edged tooled.
Machine stitching can be done at an extra charge.
For male or female use, very versatile and recommended for genital punishments, warm up's and serious close up correctional discipline.
Black, constructed with belting leather hide.
Expertly combined to give you a superb and versatile starter kit,but equally useful in any serious collection of leather discipline equipment.
Heavy leather school strap measures 10.75 inches long by 1.50 wide.
Two tails are standard, but this strap can be cut into a three and a four tail version,
A slight price adjustment is made for the custom work, use the menu to select your choice.
The leather spanking paddle measures 11.25 inches long by 2.50 wide.
This set is hand crafted in our workshop and is highly recommended by Mistress Penny.
Approximate thickness of each of these superb leather items is 1/4 of and inch thick.
This set is made in our own workshop by skilled leather workers.
Lochgelly tawse styles are made by strictlyleather custom leather workshop.
Definitely not faux leather as offered else where online.
Made in Lancashire England Shipped world wide.
OUR COURIERS