Leather Whip Tawse Wooden Handle 2 Tails
Tue, 09/13/2011 - 19:55 — Anonymous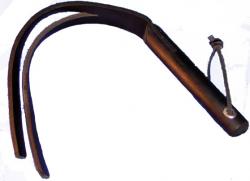 SKU: WHWTWS
An extremely useful and effective leather thrashing tawse.
Round wooden handle gives you a firm grip on this whip tawse enabling you to fully control the tails.
A hanging loop is fitted to the handle so you can hang this tawse up in your playroom or from your waist belt.
18 inches long overall, handle is 6 inches long, With two punishment tails.
The tawse is firmly fixed in the handle as picture.
Extra thick hide leather that really does the job well.
Ideal bare bottom spanking equipment and a valuable addition to any serious BDSM collection.
Black leather tails and stained black handle.
Black is standard but you can select the tails in other colours.
Made in England
OUR COURIERS