Leather Penis Whip
Tue, 05/27/2014 - 16:58 — Anonymous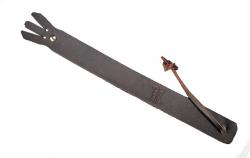 SKU: PNWP3TL
A very special " Priests " leather penis punishment strap.
Extra dense oily leather with a steel weight in the tail end (see picture !)
You can enhance the weight and suppleness of this special priest's penis punishment strap if you use our "wonder Whip Oil".
Click image for a larger view.
Three tail ends that spread out and extend the hitting zone.
One inch wide , leather body with a hanging thong.
Ten and a half inches long.
1/8 thick.
Dark Brown leather.
Use on the penis head end for maximum effect.
Designed by Mistress Penny.
Made by strictlyleather in England from our exclusive stock of special whip leather. (copyright.2018)
OUR COURIERS